With many benefits, a body oil is now what we desire
Body oils I liked it, but I had no idea what the exact benefits actually are. With the beauty ideals we have and the increasingly natural approach because we prefer au natural aging, it turns out to be a goddamn indispensable good.
Because during my cupping and connective tissue massage it turns out body oil not to drag. Also for my latest acquisition, a Gua Sha stone, is a face oil indispensable . Because all these ways to make the skin glow, ask for a little oil. Things should slide smoothly, right?
Natural
body oil
Not surprising that we see skin oils passing by more and more often. More value is placed on it green and natural and skincare is adjusted accordingly. Your skin absorbs a lot, we are becoming increasingly aware of that.
So launched Abura Cosmetics recently rich nourishing & moisturizing body oils . Natural body oils that nourish the skin moisturizing, firming, caring and let it shine. The oil absorbs quickly, lubricates nicely and feels wonderful on the skin. They are rich in vitamins A, B and E that improve skin elasticity and the skin's own collagen boost to give. Valuable fatty acids keep the skin healthy, soft and hydrated.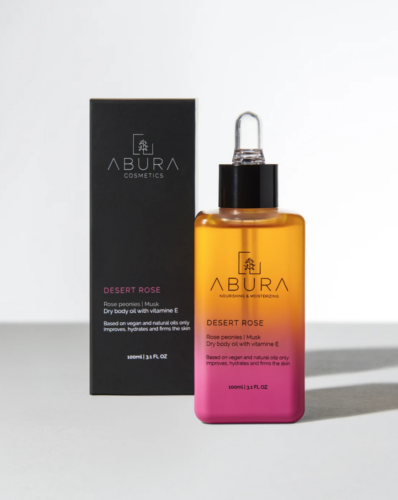 Hydrate the skin
Especially if you have dry skin, using a body oil after showering is not an unnecessary luxury. Most oils absorb quickly, but ensure that that dry and tight feeling disappears quickly. That is a nice feeling, especially in the summer.
Massage easier
Speaking of a nice feeling: a massage is the ultimate way to relax. Without oil, no massage. It is so nice if the oil immediately smells good, nourishes the skin and makes it shine.
Cupping and stimulating blood flow
More and more people know that it is extremely important to have a smooth, tight and radiant skin massage connective tissue through which everything can flow. This way waste products are better disposed of and you experience fewer adhesions.
I now invariably have a massage glove and a cup with every shower and that slides better with an oil. So indispensable!